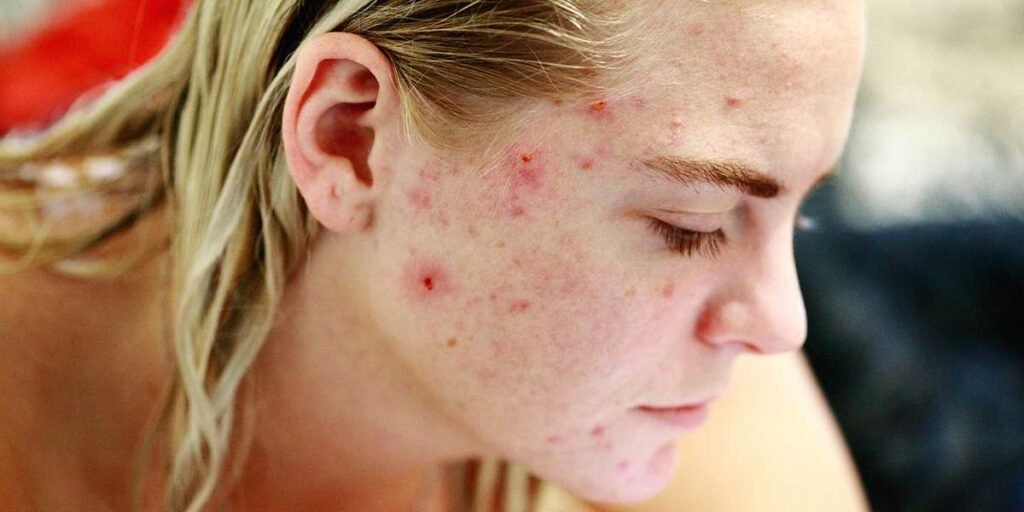 How to Deal with Acne? 4 Tricks to Fight Acne
Everyone wants healthy and flawless skin free from blemishes and pimples, but sometimes pimples just pop up on your face. Even though puberty has passed, and the work and rest are normal, why do people still develop acne? It makes people confused and doesn't know where to start. Let us share with you 4 ways to prevent acne, and say Bye Bye to acne from now on!
 How to deal with acne? 4 tricks to fight acne
1. Keep your face clean, so that you won't have acne
Whether you have acne on your face or not, it is important to clean your skin 1-2 times a day. Washing your face removes dirt, impurities, dead skin cells, and excess sebum from the surface of your skin, reducing the chance of breakouts.

When washing your face, it is recommended to use warm and cool water and low-irritant cleaning products. Overheated water will remove the natural sebum that protects the skin. Strong cleaning products will irritate the skin and worsen the skin condition. In addition, try not to use towels, rough-textured bath towels, exfoliating towels or loofah cloth to scrub the skin vigorously, so as not to worsen the skin inflammation.
Towels need to be cleaned and replaced frequently, and face washing should not exceed 2 times a day. Excessive face washing will cause dry skin and an abnormal increase in oil.
2. Use less cosmetics in order not to stimulate acne
When you have acne on your face, you should temporarily stop applying makeup, and do not use foundation or rouge. If it is necessary to make up, you should choose oil-free cosmetics without added pigments, chemical ingredients and oily ingredients, and remove makeup thoroughly in the bath.
It is recommended to choose cosmetics with oil-regulating effects and marked "Non-comedogenic". These products have relatively refreshing ingredients and are not easy to cause acne.
3. Using topical medications containing benzoyl peroxide, salicylic acid, or retinoic acid 
It is recommended to use ointments or gels containing benzoyl peroxide or salicylic acid as active ingredients to remove excess sebum on the face, because excess sebum is the culprit that leads to blocked and inflamed hair follicles and acne. Retinoic acid gel can also prevent pimple formation, but it is less suitable for people with sensitive skin.
Since this type of product is prone to dryness or peeling during initial use, it is recommended to use a small amount at the beginning, and then adjust the amount and frequency of use as the skin adapts.
4. Eat healthy and have good skin naturally
High-fat and high-salt foods, such as fast food, salty crispy chicken, potato chips, etc., can easily cause acne. It is recommended to eat more fresh fruits, vegetables and grains, and eat less processed foods and dairy products high in sugar.
Related Topics
10 Antioxidant Foods Popular in Japan
Selenium – The Nutritional Key to Skin Health
Reference
Helpful Organization
Best Supplement to Prevent Acne – Just Click to Buy
Holland & Barrett Selenium + Zinc & Vitamins A, C & E 
H & B a Reliable Brand
Full of Vitamins and Minerals: These coated tablets contains vitamins such as A, B6, C and E along with zinc and selenium minerals

Antioxidant Supplement: Nutrients such as Vitamins C, E and Selenium play a role in protecting DNA, proteins and lipids from oxidative damage

For your Skin, Hair & Nails: Zinc supports the normal function of the immune system, maintains normal skin, hair and nails, and contributes to macronutrients metabolism

Our Promise to You: Holland & Barrett products are subject to critically stringent quality assurance. Our commitment to quality is the highest in our industry to ensure the best quality nutritional supplements money can buy. You have our guarantee!

Directions: Take 1 Tablet(s) per day, preferably with a meal. Do not exceed the stated dose. Suitable for vegans and vegetarians
Holland & Barrett Selenium + Zinc & Vitamins A, C & E 
Beauty From Within
How can zinc help improve acne?
Essential, zinc has long been recommended to help with acne prone skin. It plays a key part in the immune system and has qualities such as helping with enzymes, cell division and healing. It is often prescribed during pregnancy too, to help growth and development.
How can selenium help improve acne?
Selenium is the supplement many swear by.
It's involved in fighting infection, and hormone balance. It works best in conjunction with zinc and vitamin E. When treating acne, it's main role is as an anti-inflammatory.
How can Vitamin E help improve acne?
Known as the 'healing' vitamin, vitamin E is an anti-inflammatory antioxidant. It encourages healing, and is specifically renowned helping with acne scarring. You'll find vitamin E in nuts, avocado and spinach.
How can Vitamin A help improve acne?
The great thing about vitamin A is that it contains retinol and pro-vitamin A carotenoids which help withgrowth, development and the immune system and most importantly, with skin cell regeneration. A big plus when fighting acne!
How can Vitamin C help improve acne?
Also known as L-ascorbic acid, vitamin C is a regular favourite and for good reason: this antioxidant fights free radical damage and helps with collagen renewal. It's key to healthier, bouncier looking skin!
Holland & Barrett International is one of the world's leading health and wellness retailers and the largest in Europe
Best Books For Acne – Just Click to Buy
Selenium is a trace mineral needed in a variety ways to preserve health. Though its deficiency is uncommon a lack of selenium can cause a variety of problems such as exhaustion and muscle weakness. In this fact filled report, find out where selenium is ingested and also how selenium may be used in the the treatment of some common as well as severe health issues.
Acne, rosacea, and sebaceous hyperplasia are very common skin problems, which have a significant medical, cosmetic, and often psychological impact on the daily lives of millions of people. This book covers both the medical and cosmetic aspects of these skin disorders including all clinical considerations, etiology, epidemiology, diagnostic challenges, and the latest theories on
Have you tried and failed with conventional Western medications to cure acne? Are you looking for proven ways to naturally get rid of it from your body? If that's a yes, we suggest you read further. Dr. Sebi was a worldwide known herbalist, naturalist, and pathologist. He cured many actors and celebrities of the entertainment industry during his life, including Michael Jackson, Lisa's Left Eye' Lopes, and John Travolta.
Products for Acne – Just Click to Buy
L'Oreal Paris 3.5% Glycolic Acid Cleanser, Revitalift Glycolic Resurfacing Gel Wash
One of the great benefits of glycolic acid is its anti-acne properties. Glycolic acid is keratolytic, meaning it can break apart dead skin cells. And as mentioned, it exfoliates dead skin cells that can clog your pores and trigger breakouts. By removing all the excess oil, dirt, and dead skin cells, you'll be able to achieve brighter and smoother skin.
Acne busting
Glycolic acid is a great addition to all skincare routines. For those who suffer with outbreaks, it's particularly effective and can fight against a whole range of skin irritation and acne issues. Particularly for cystic acne sufferers, it help to unclog even the deepest blockages of dead skin cells and sebum. This, when combined with other ingredients in your skincare routine, makes it one of the top options for staving off painful spots. Acne scarring is no match for this super AHA either. Much in the same way that it is touted as an elixir of youth and a dream exfoliant, glycolic acid can also help to lessen the appearance of deep acne scars.
Benzoyl Peroxide, Salicylic Acid and Retinol Acid Again Acne